Patient Poster Track & Abstract Submission
Some might say there is a patient-physician disconnect when discussing urological care. Studies have shown there is often a gap between what the physician recommends, based on scientific evidence combined with experience, and what patients prefer in terms of outcome, side effects and maintaining a good quality of life1,2.
A patient's personal values and opinions may not be compatible or taken into consideration with the recommended treatment. As a result, healthcare professionals (HCPs) may appear to be out of sync with health-related quality-of-life matters that are important to a patient.
The patient-physician disconnect will be one of the themes at the annual EAU Congress in Milan, 9-12 July 2021. The EAU offers patient advocates the opportunity to present their research into diagnostics, treatments and follow-ups that could cast a fresh light on health-related quality-of-life issues and addresses presumptions that exist regarding these issues.
We encourage patient advocates from across the globe to actively participate and contribute to the Annual EAU Congress in Milan, by submitting a poster abstract. The Patient Poster Track provides educational opportunities for patient advocates and HCPs to improve communications and to encourage and promote collaboration, while changing perceptions on both sides.
This is your opportunity to bring into focus the patient perspective on treatments vs. health-related-quality-of-life issues.
Do you have compelling patient research insights in urology related diagnostics, treatments or follow-ups?  If so, your work deserves a wider audience.
Submit your research results to Europe's biggest audience in urology at the 36th Annual EAU Congress (EAU21). This is your opportunity to share your knowledge, to participate and to contribute to a meaningful dialogue with experts about what matters to you!
What do we ask of you?
Tell us what your research is about
Tell us about your experiences
Tell us some of your best practices
Tell us what the implications are (if any) in terms of:

Feasibility of implementation in healthcare professional practice
Feasibility to create new healthcare policy based on your research

Tell us your conclusion
We offer support in writing, proofreading and editing your abstract and/or designing your poster, please contact: e.robijn@uroweb.org
If your abstract is accepted, you will have the opportunity to present your work to the 14,000 medical specialists, HCPs and peers attending the congress.
For more information and tips & tricks for submission of abstracts, please visit the EAU21 Patient Poster Track page on the EAU Patient Information site.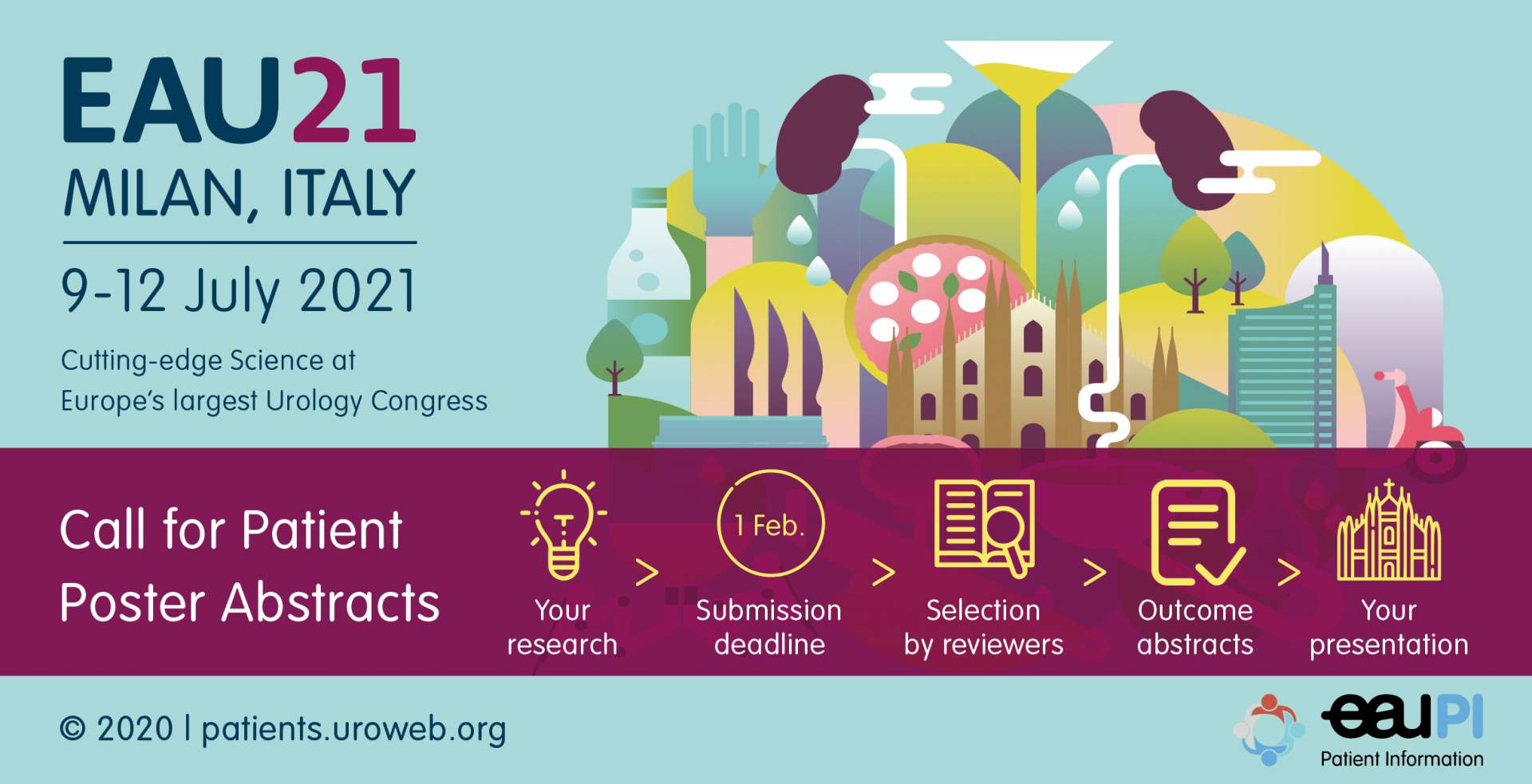 ---
Patient Poster Track Activities
The Expert-guided Patient Poster tour aims to encourage interaction between the presenter and the medical experts which allows for a patient perspective to be injected into the conversation. It provides educational opportunities for patients, patient advocates and HCPs intended to close the gap by improving communication and changing perceptions on both sides. This will ultimately lead to better treatment and adherence through shared decision-making as well as improve outcome.
Top-5 Patient Poster presentation will take place at the EAU Patient Information sessions. In addition to each presenter receiving a prize for best poster, each presenter is given the opportunity to take the stage and present their study.
Poster presentation in the scientific program brings together HCPs and patients in the best possible way. By bringing the patient perspective into the discussion, it provides a good balance and will clearly showcase any disconnects in terms of what patients experience, think, want and the view of clinicians. A better understanding of expectations on both sides benefits all.
Posters will be electronically accessible at a designated kiosk located adjacent to the Patient Advocates Lounge.
Information about dates and location of the sessions will follow shortly.
---
Abstract Submission
Abstract submission closes 1 February 2021.
Submission Rules:
Authors must be patients living with a urological disease or patient advocates.
Patient advocates should submit a proof of status.
Research focussed pharma interventions will not be considered.
English is the preferred language, however, abstracts in all languages will be considered.
All presentations should be conducted in English.
The Presenter must be fluent in English.
The Presenter can be one of the authors or a patient advocate representing them.
The Presenter is provided with a full registration and travel support to attend the congress.

---
References
George Miaoulis Jr., Jonathan Gutman & Margaret M. Snow (2009) Closing the Gap: The Patient-Physician Disconnect, Health Marketing Quarterly, 26:1, 56-68, DOI: 10.1080/07359680802473547
Canzona MR, Love D, Barrett R, et al. "Operating in the dark": Nurses' attempts to help patients and families manage the transition from oncology to comfort care. J Clin Nurs. 2018;27(21-22):4158-4167. doi:10.1111/jocn.14603
This project is brought to you by the European Association of Urology (EAU), with programme development support from Pfizer. The editorial content of this page was written independently of the sponsor and is judged free of any conflict of interest.