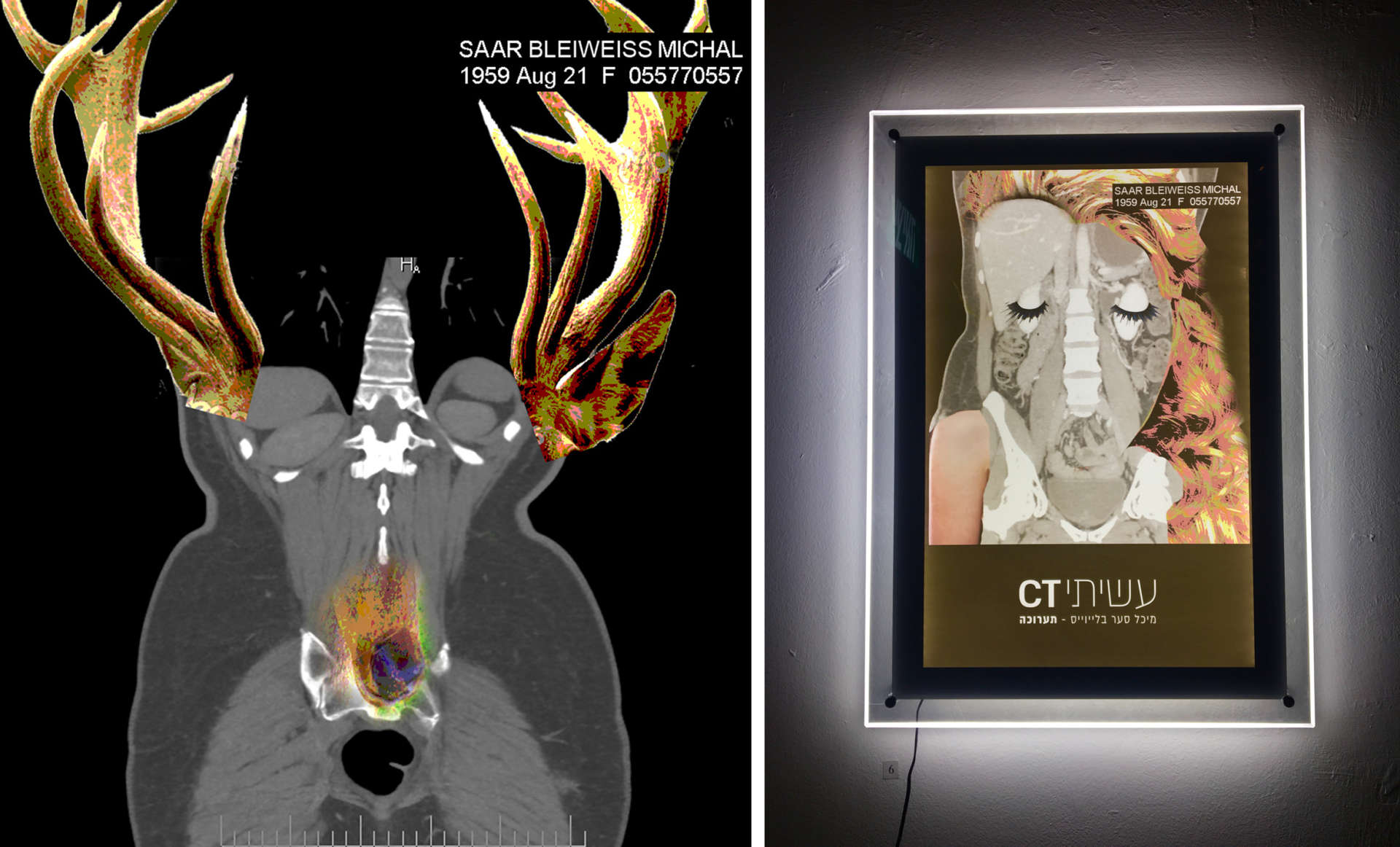 INSIGHT
A reimagining of "Self-CT", by Michal Saar-Bleiweiss
Several years ago, I became sick with a urethral stricture. I had a nephrostomy tube fitted (twice), which then resulted in needing left ureter-one-ocystostomy surgery.
As part of the preparations to the surgery, I was sitting with my husband, Mark, at a clinic of a professor who specializes in CT* decoding. There, on two huge screens, for the first time I saw my body from the inside, and it was at this moment that my creative impulse arose.
The images in front of me were entirely in black and white, devoid of personality or character. There was no sign of the Michal that was me, and I felt a great desire and need to take these images to reinstate Michal, the person. When we returned home, I was curious about how I would feel when I looked at the images again—but this time on my computer screen. What I saw created an emotional storm within me.
This storm opened my "third eye", enabling me to look inside myself. In my imagination I saw colors, dimensions, and expressive features, such as eyes. This was my way of internalizing my new reality, digesting what is going on inside me and brushing off my fears and pain. I wanted and needed to wake up each morning with a new smile and the ability to cope.
Mark accompanied me on this journey, and he continues to do so, strengthening me when it is difficult and encouraging me to carry on – and I thank him from the bottom of my heart.
At the beginning I had shared this emotional journey, and the images in my mind, with only a handful of people. I had never really stopped to ask why this was. Perhaps I had not wanted to startle people or to reveal what I was really feeling.
One of the few people I did share it with was Professor Leibovitch, head of urology department at Meir Hospital, Kfar-Saba, Israel. He was the first one to realize that it is important to show these works to the public.
The trigger for my decision to show these works in a public space was a meeting with an art curator.
Showing him some of my works, he urged me to share them more widely in a formal gallery setting.
At first, I was reluctant. This had been a very personal response in a difficult and painful time of my life.
Who would – could – be interested? How would they connect to such an outpouring? These are not traditional works of art that has its own, albeit changing, code of aesthetics. Yet I felt ready to share with those people who were important to me or who had touched me in some way over the years: my family; friends; work colleagues; clients; physicians … I began to see that it was possible.
And, since that first "personal exhibition" I found myself exhibiting my works in different galleries. The reactions of visitors to these exhibitions – including doctors and other medical professionals – were overwhelming: emotional; positive and heart-warming. For the medical professionals, these works were a glimpse into the depths of my pain and anxiety, as a sick person. To the other audiences, these works were an inspiration to see beyond the stark "black and white" of a scan and its diagnosis and help them to retain their sense of self and hope.
I feel fortunate that I found expression – a way to respond to something that had been painful and fearful.
It gave me hope. It is that which I want to share most with people who look at my works – some of which are difficult to watch, even 'ugly'. But from it all came good things and feelings and I am now well.
Nowadays when the muse takes over I "dive into" the keyboard and create the digital collages that swirl inside my head. You can find my artwork and more about me in my website, www.2108art.com
Michal Saar-Bleiweiss
July 2022