Welcome to our look back on the EAU22 Patient Day! We are proud to have been a part of EAU22 the first regular in-person congress in three years.
Despite all the challenges and unpredictable situations for everyone, the EAU and EAU Patient Office (EAU PO) successfully created unique congress experiences which offered global visitors options to participate in a wide-range of congress activities.
The EAU Patient Office, together with patient advocate groups and experts, worked tirelessly to bring further awareness to the patient's perspective by focusing on the theme: Addressing Unmet Needs.
With everyone committing their focus on successful collaborations, we came together with Europa Uomo, the European Cancer Leagues (ECL), the World Bladder Cancer Patient Coalition (WBCPC),  International Kidney Cancer Coalition (IKCC), and the World Federation for Incontinence and Pelvic Problems (WFIPP), to create a day of positive impact. Our Patient Day encouraged open dialogues and endeavoured to illuminate the needs of patients, their care support system and incorporates the role of health care professionals.
The EAU22 Patient Day included eight different sessions:
Patient Poster Session: This session addressed patient needs, presented solutions, presented novel approaches, examined best practices and other suggestions
Roundtable: Fatigue in Prostate cancer patients*
Roundtable: Sustainable Continence care**
Bladder Cancer Session
Kidney Cancer Session
Prostate Cancer Session
Functional Urology Session
Life after Cancer Treatment Session
* The Roundtable discussion: Fatigue in Prostate Cancer Patients was supported by a hands-off grant from Bayer HealthCare Pharmaceuticals Inc.
** The Roundtable: Sustainable Continence Care was supported by an unrestricted grant from Medtronic.
Because we believe in supporting patient perspectives, the EAU Patient Office proudly promoted patient-oriented abstracts by providing a special platform and selected patient presentations which have been published on our Patient Information EAU22 Resource Centre. These presentations are also available at the EAU22 Congress Resource Centre.
We also added a refreshing and new interactive element to the EAU22 Patient Day by including a premier one-of-a-kind art exhibition. This exhibition was created by a urology patient, Mrs. Michal Saar-Bleiweiss, documenting her disease and treatment experiences. Mrs. Saar-Bleiweiss joined the Congress to share her patient journey personally with visitors. Please click here to read more about the Congress exhibition, INSIGHT A reimagining of "Self-CT". For more details about the artist, please click on this link.
If you haven't already done so, take a moment to visit the EAU22 Resource Centre and look back on the various Congress sessions. We invite you to not only revisit patient-oriented sessions that you have attended in-person this year but also take the time to discover new sessions by listening to webcasts, watching event recordings or viewing poster abstracts.
Don't forget to set the dates for EAU23, the 38th Annual Congress in Milan, Italy from 10-13 March.
Come make a personal connection with us in Milan!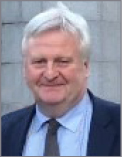 Mr. Eamonn T. Rogers
Chairman EAU Patient Office