Welcome to the page of the EAU22 Patient Day!
We are pleased to announce that the EAU22 Congress will be an in-person, physical event from 18-21 March 2022 in Amsterdam, the Netherlands.
As the pandemic continues to create unpredictable situations for us all, the EAU and its Patient Office strive to successfully innovate the Congress experience to give global visitors options to participate in Congress activities.
With the overwhelming success of Patient Day on 9 July 2021 at the EAU21 Virtual Congress, the EAU22 Patient Day on Monday 21 March 2022 in Amsterdam will be an event you do not want to miss. The EAU Patient Office, together with patient advocate groups and experts are confident that EAU22 Patient Day will bring further awareness to the patient's perspective.
We are pleased to continue our collaborations with European Cancer Leagues (ECL), European Cancer Patient Coalition (ECPC), Europa Uomo, International Kidney Cancer Coalition (IKCC), World Bladder Cancer Patient Coalition (WBCPC),  World Federation for Incontinence and Pelvic Problems (WFIPP), and others to create a day of positive impact. Our Patient Day encourages open dialogue and seeks to illuminate the needs of patients, their care support system and incorporates the role of health care professionals.
I look forward to connecting with you in person in Amsterdam in March 2022!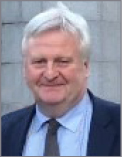 Mr. Eamonn T. Rogers
Chairman EAU Patient Office