Welcome to the EAU Patient Day 2021!
2020 was an exceptionally challenging year for all of us, transitioning into the new normal with our fair share of virtual meetings, face mask-wearing and social distancing. The EAU successfully met these challenges; the EAU20 Virtual Congress was a huge success and opened up other possibilities when it comes to organising meetings in the future.
With the pandemic still raging across the world, EAU21 will also be converted from a physical congress in Milan to a virtual congress, from 8 – 12 July. The absence of a physical annual meeting has not prevented EAU Patient Information (EAU PI) from working tirelessly, and I am very pleased to announce the very first EAU Patient Day, which offers a daylong series of patient-related activities during EAU21
I look forward to virtually seeing you to share your knowledge, experiences and insights into treatment and quality-of-life issues.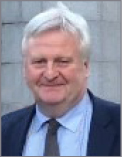 Mr. Eamonn T. Rogers
EAU Patient Information Chairman