EAU23 Abstract Submission
Submit your abstract to get the chance to present your research at EAU23 in Milan, the largest urological congress in Europe!
Top-quality scientific content is what draws thousands of delegates to Europe's largest urology meeting every year. By submitting your abstract(s) to the EAU23 you get the chance to publish, present and discuss your research with a great and professional audience.
All abstracts are reviewed anonymously by a team of reviewers, carefully selected by the EAU Scientific Congress Office. Typically around 5,000 abstracts are submitted by urologists and other medical professionals around the world. Around a third are selected each year.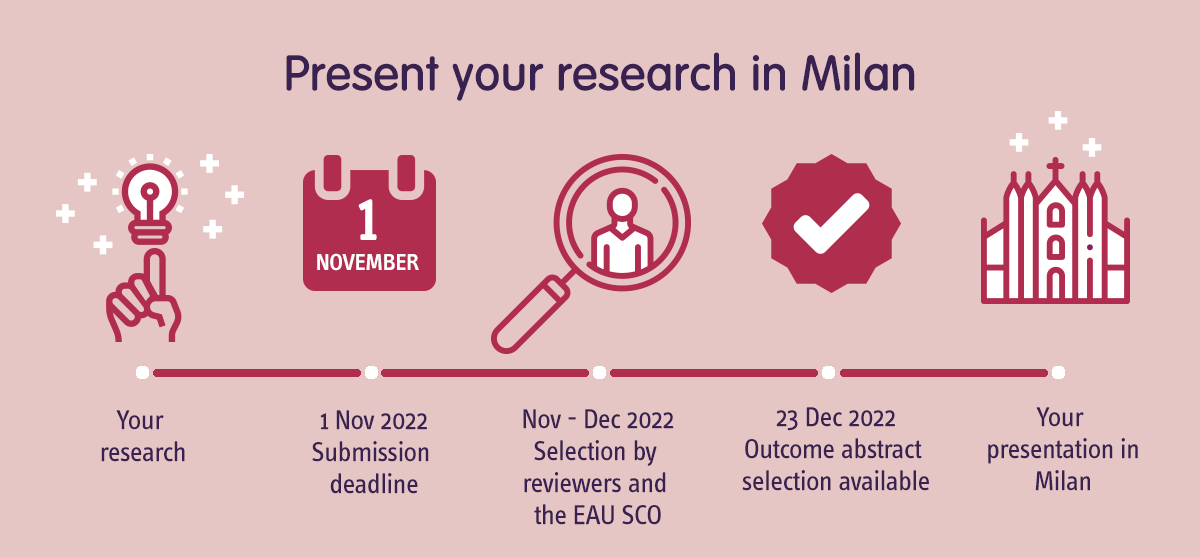 Important dates
1 August 2022
Abstract submission system open
1 November 2022 (08:30 CET)
Deadline for abstract submission
November – December 2022
Abstract selection by reviewers and the EAU Scientific Congress Office members
23 December 2022
Outcome abstract selection available via the online abstract submission system. You will receive a notification by email
5 January 2023
Deadline to accept the presentation or to withdraw abstract
10 February 2023
Abstracts (full bodies) are available for EAU members and EAU23 delegates via the EAU23 Virtual Platform.