Welcome!
The EAU Patient Office is currently preparing for its major annual event, the EAU Patient Day. Since its inception, the event offers a platform where healthcare professionals (HCPs) and patient advocates can meet to share perspectives and experiences. The third in-person edition of Patient Day will take place at the upcoming Annual EAU Congress in Paris (EAU24) on Friday 5 April.
After a successful EAU23, Patient Day kicks off on the first day of EAU24. You can expect a full range of activities not only for patients but also learning opportunities for HCPs where they will develop a set of vital skills to engage with patients in a way that makes a measurable impact.
Session Themes
Urological Patient Presentations
Roundtable #1: Nutrition – Patients with cancer and the importance of nutrition.
Roundtable #2: Penile- and Testicular Cancer
Roundtable #3: Inflammatory Bladder
Roundtable #4: Use of digital technology & data driven shared decision-making
Registration
Patient advocates* can register for the congress for free.
Patient advocates* are eligible to apply for a €500 travel grant.
A letter is required stating why you want to attend the congress
You must agree to submit a post-congress report, describing your congress experience and areas for improvement
Applications are accepted on a first-come-first-serve-basis
To apply send an email to info.patientinformation@uroweb.org
Patient Advocacy groups are eligible to apply for a complimentary desk in the Exhibition area.
Applications are accepted on a first-come-first-served-basis
To apply send an email to h.wieringa@uroweb.org
EAU Patient Lounge
I also invite you to come visit the EAU Patient Lounge! The Patient Lounge is a place for patient advocates to enjoy a cup of coffee or tea, relax in between sessions and to connect with peers. It is located in the EAU23 Exhibition at booth K36.
Last but not least, the Patient Art Gallery INSIGHT: A reimagining of "Self-CT", by Michal Saar-Bleiweiss from Shefayim, Israel, will return!
I look forward to seeing you in Milan!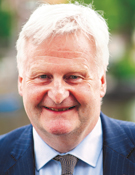 Mr. Eamonn T. Rogers
Chairman EAU Patient Office