Download your copy of De Historia Vol. 28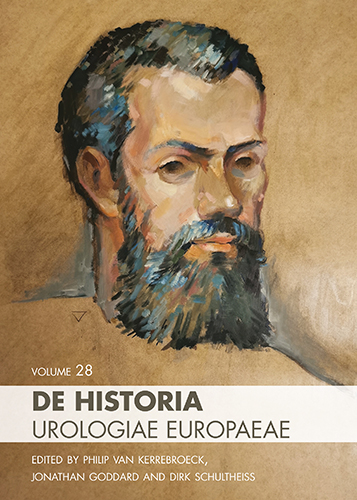 Congress delegates are entitled to a free digital copy of Volume 28 of De Historia Urologiae Europaeae. This 192-page volume on the history of our field will make fine summer reading. It features two extra-long chapters with the first English translation of a newly-discovered consilium by renaissance anatomist Vesalius and an impressive overview of the history of urethral stricture disease by a leader of the field. Please find a complete table of contents below.
This digital edition is a Congress Gift for the EAU21 Virtual Congress. Physical copies will be available when the next regular Annual Congress takes place, together with Volume 27 (EAU20) and future volumes.

Table of Contents
The History of Urology
Parsifal: The Story of Geoffrey Parker, British Urologist and Surgeon to the French Resistance
Jasmine Winyard and Jonathan Charles Goddard
St. Cosmas and St. Damian's Role in Urology
Marcos Cherem-Kibrit and Jorge Moreno-Palacios
Special Extended Chapters
A History of the Treatment of Urethral Stricture Disease
Anthony R. Mundy
The 'Consilium' by Andreas Vesalius for Bernhardus of Augsburg, a Nobleman with Recurrent Urinary Problems (Padua, October 12, 1538)
Omer Steeno, Maurits Biesbrouck and Theodoor Goddeeris
Urological Pioneers
Michele Troja: Enlightenment Scientist, and the "Urology Chair" at the University of Naples in the 18th Century
Renato Jungano and Gloria Castagnolo
Friedrich August von Haken (1833-1888): His Contribution to the Development of Endoscopy
Thaddaeus Zajaczkowski