About Amsterdam
Information on Amsterdam will be available at the Amsterdam Information Desk (Blue Area) staffed by the Amsterdam Convention Bureau. They can assist participants with all questions related to the city.

---
Abstracts, Posters & Videos
More than 1,700 abstracts will be presented during poster, video and Expert-Guided Poster Tour sessions in Amsterdam. Congress delegates can collect the EAU20 Poster USB, with a collection of scientific posters from the EAU20 congress at the EAU Booth.
Best poster:
The best poster of each session and 2 best posters of the Expert-Guided Poster Tour session can be viewed at the designated poster area during congress hours, as well as on the congress website as of Friday, 20 March 2020.
Abstracts are also available online In the EAU20 Resource Centre at EAU20.org/rc, at Urosource and through the congress App for EAU members and congress delegates as of Friday, 20 March 2020. Elsevier will publish the accepted abstracts as an official supplement of European Urology as of Friday, 20 March 2020 at www.sciencedirect.com and www.eusupplements.europeanurology.com.
Online abstract submission closed on 1 November 2019 (23:59:59 CET).
More information about the submission procedure.
---
Access to Session Rooms
Only congress delegates with a valid badge, have access to session rooms. Seating is regulated on a first-come, first served basis. We recommend delegates to go to session rooms well in advance.
Due to safety regulations, doors will be closed when all seats are taken. It is not allowed to stand in the aisles of the rooms.
---
Address Congress Venue
RAI Amsterdam
Europaplein 24
1078 GZ Amsterdam
The Netherlands
Google maps
---
App: Your smart congress companion
The EAU20 App is the easiest way to navigate the congress and provides instant access to key information on EAU20. Browse the scientific programme and create your personal programme using the planner. Find session rooms and exhibitor booths by scrolling through the floor plans. Via the personal congress bag icon, you can save relevant links to digitally retrieve or review after the congress. Offline use of the App is possible. Download the new EAU Events App for free in the Play Store (Android) or App Store (iOS).
---
Award Gallery
At the EAU Award Gallery, you will find a complete overview of all EAU awards handed out during EAU20. It also features information on past winners of the most prestigious EAU prizes. The EAU Award Gallery provides a great opportunity to take in all the important developments and breakthroughs in recent years.
For more information on Awards check the EAU20 website.
---
Badge Classification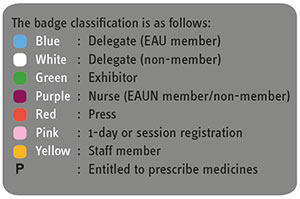 ---
Badge Tracking System
Congress delegates have a barcode on their badge which enables them to leave their contact details with exhibitors in a quick and easy way. The barcode will also be scanned at the entrance of the session rooms to gather CME and statistical information. EAU bears no responsibility for data scanned by third-parties.
---
Bank and Exchange
The currency in The Netherlands is the Euro (€). An ATM can be found at the main entrance of the congress (Entrance K).
---
Business Centre
There is a business centre at the main entrance (Entrance K, Orange Area) at level -1.
---
Business Lounges
There are several business lounges available during EAU20.
---
Certificate of Attendance
A Certificate of Attendance for EAU20 can be printed as of Wednesday, 25 March 2020. You will need your registration number (below the barcode on your badge) to print the certificate. Download the certificate here.
---
Charge and Connect Area
Special "Charge & Connect Areas" with sitting areas, free internet, work stations and power outlets are available in the Exhibition Hall (Blue Area).
---
Cloakroom and Luggage
There is a cloakroom available during congress hours in main entrance (Entrance K, Orange Area) on level -1.  Please collect all personal items at the end of each day.
---
CME Accreditation
The application for accreditation of the EAU20 congress will be submitted to the UEMS/EACCME.
---
Congress Bag
Registered participants can collect a congress bag in the Registration Area (Blue Area).
---
Congress Newsletter: European Urology Today Congress Edition
Special daily congress newsletters will be distributed at various locations in the congress venue on Saturday, Sunday and Monday. The newsletters feature on-site interviews and background information on sessions and all other relevant subjects. The newsletters will also be available online here during and after the congress.
---
EAU Booth
The EAU Booth in the Exhibition Hall consists of the following corners: EAU Membership, EBU, EU-ACME, Patient Information, Young Urologists, European Urological Scholarship Programme, EAU 2021, Research Foundation, eUROGEN and the EAU Historical Exhibition. There is also information on European Urology and on other EAU publications.
The EAU Membership Corner provides information on membership status and membership benefits. Non-members are welcome to visit the EAU Booth for further information and to apply for EAU Membership.
---
EAU Congress Office
More information about the Congress office can be found here.
---
EAU Education Office – European School of Urology (ESU)
The European School of Urology (ESU), working with European faculties, will provide high quality international educational courses in urology during EAU20.
For more information see ESU Courses here.
---
EAU Patient Information
EAU Patient Information is the trusted portal for patients and urologists, offering evidence-based information on diagnostics, treatments and patient support. Delegates are welcome to visit the EAU Patient Information Corner for a presentation of animated videos on surgical procedures developed for patients. The EAU Patient Information Corner is located at the EAU Booth in the Exhibition Hall (Blue Area).
---
EAU Policy on Live Surgery
The EAU's official policy on Live Surgery Events offers organisers a clear framework within which to plan and perform live surgeries. The main principle for these guidelines is that patient safety must take priority over all other considerations during live surgery. Read more >
---
EAU Research Foundation
The EAU Central Research Office initiates and coordinates, as well as refines investigator initiated and other clinical research protocols. It also acts to facilitate all aspects of clinical research and expand the current network of active research centres and investigators – basic and clinical – both within the EAU member states and its international affiliates. The office coordinates clinical and translational research in close liaison with the EAU Research Foundation. The EAU Research Foundation can be visited at the EAU Booth in the Exhibition Hall.
---
Electricity
Amsterdam, like most other European countries, has 230-volt AC, 50Hz current and uses two-pin continental plugs. Visitors from the Swiss, UK and Ireland will need a plug adaptor for electric appliances, while those from North America need a power converter to use 110/125V appliances.
---
Emergency Information and First Aid
There are several First Aid units in the congress venue indicated with

. In case of emergencies, contact a security guard or call the following numbers:
• Ambulance (ambulance) and health emergencies: 112
• Fire brigade (brandweer): 112
• National Dutch police (landelijke politie): 112
---
EU-ACME Desk
Information on the EU-ACME programme, CME/CPD credits, membership status & benefits, accredited CME activities and national CME credits systems can be obtained at the EU-ACME information desk at the EAU Booth in the Exhibition Hall (Blue Area).
---
European Association of Urology Nurses
The 21st International EAUN Meeting will be held in Amsterdam on 21-23 March 2020, in conjunction with EAU20. This unique three-day meeting provides the ultimate opportunity to interact with leading urology nursing and medical professionals and to find inspiration for advanced nursing practice to take forward in your own work environment. The scientific programme will bring together the latest developments in research as well as best practice and current clinical guidelines, through interactive sessions and (state-of-the-art) lectures, providing an opportunity to discuss and share your important clinical experiences and practice.
See the EAUN20 website or download the EAU Events App from the Play Store (Android) or App Store (iOS).
Information on EAUN activities (fellowships, courses, guidelines) and EAUN membership can be obtained at the EAUN Booth (Yellow Area).
---
European Board of Urology (EBU)
The European Board of Urology (EBU) is a section of the UEMS (European Union of Medical Specialists) and responsible for regulatory matters. Visit the EBU Corner at the EAU booth in the Exhibition Hall (Blue Area) to obtain more information on EBU's core activities:
European Board Examinations in Urology (FEBU) and Assessments
Certification of Residency Training Programmes in Urology, EBU-EAU Host centres, Sub-Specialty Centres
Medbook® for EBU
---
European Urology, EU Focus, EU Oncology & EU Open Science
European Urology, 'The Platinum Journal', is the official journal of the European Association of Urology (EAU). This international peer-reviewed journal devoted to urology is published since 1975 and nowadays reaches over 25,000 readers. The Editor-in-Chief of European Urology is Professor James Catto. European Urology's 2018 Impact Factor is 17.298. Come see European Urology for yourself – visit the European Urology booth (A28) in the Exhibition Hall (Blue Area).
European Urology Focus (EU Focus) is a sister journal to European Urology and the second official publication of the European Association of Urology (EAU). EU Focus is published at least 6 times per year in an electronic format. Each issue includes a series of invited, thematic reviews, together with original reports, correspondence and introductory editorials on a wide range of urological issues such as oncology, functional urology, reconstructive urology, laparoscopy, robotic surgery, endourology, female urology, andrology, paediatric urology and sexual medicine. EU Focus articles are available on PubMed.
European Urology Oncology (EU Oncology) is the latest sister Journal to European Urology and is the first official publication of the EAU fully devoted to the study of genitourinary malignancies. The journal is published six times a year in electronic format.  EU Oncology aims to deliver high-quality research while pursuing the goal of a multi-disciplinary approach, with Urology, Medical Oncology, Radiation Therapy, Imaging, Pathology and Basic Research working together with the same final aim: to improve patient care.
European Urology Open Science (EUROS) is the Open Access journal of the European Urology family. It is dedicated to the publication of high quality, innovative research that will benefit patients with urological conditions, in keeping with the mission of the European Urology family. European Urology Open Science covers all kinds of research in the urological field, including clinical, basic and translational research. European Urology Open Science reflects the evolving publishing model so all published papers will have unrestricted access and be published online-only.
---
Exhibition
An extensive technical exhibition will be held during EAU20. The exhibition, open to technical equipment manufacturers, pharmaceutical companies and scientific publishers, will officially open on Saturday, 21 March at 09.30. This exhibition is one of the premier events worldwide for showcasing new and established products as well as cutting-edge medical technology. High-profile companies , as well as small innovative businesses, join the exhibition – offering insights and opening the doors onto the world of modern urology.
Exhibition Hours:
| | |
| --- | --- |
| Saturday, 21 March | 09.30 – 18.00 hrs |
| Sunday, 22 March | 09.30 – 18.00 hrs |
| Monday, 23 March | 09.30 – 15.30 hrs |
---
Exhibition Guide
The Exhibition Guide including an exhibition floor plan and overview of all exhibitors with company profiles is included in the Programme-at-a-Glance. The Programme-at-a-Glance is inserted in the Congress Bag. This information is also available in the congress App.
---
First Aid
There is a First Aid unit located in the congress venue. The unit is indicated on the directional signs with the first aid symbol

. In the event of a medical emergency alert a security guard.
---
Food & Beverage
Catering points are available in all congress areas (Green, Blue, Yellow, Grey and Orange Area).
---
Guests & Children
In compliance with the Pharma Codes, EAU is not allowed to register guests (including children) and they can therefore not attend the congress. The EAU office cannot offer any children's daycare facilities either. If parents decide to leave their children in a part of the venue that is accessible without a badge, the EAU will bear no responsibility in case of incidents.
---
Guidelines
EAU members can collect a copy of the EAU Extended Urological Guidelines 2020 and the EAU Pocket Guidelines 2020, free of charge, at the EAU Booth in the Exhibition Hall (Blue Area).
Both publications are also available for purchase by non-EAU members at the EAU Booth.
---
Historical Exhibition
The EAU History Office is presenting an historical exhibit on "The History of Urology in Spain" (Exhibition Hall, Blue area).
---
History Annual EAU Congress
The EAU Congress history website can be viewed at www.eaucongresshistory.org. All EAU Congresses, going back to the very first in 1972, are included in the interactive overview which can also be viewed on the website.
---
Hotel Accommodation
The company K.I.T. Group has been contracted to handle the hotel accommodation for congress participants. Their staff will be available at the Hotel Desk in the Registration Area (Blue Area).
More information here.
---
Industry Partners
We would like to thank our industry partners. Please see this page for the industry acknowledgements.
---
Insurance
The organisers do not accept liability for any personal damage. Participants are advised to arrange their own personal insurance.
---
Language
The congress sessions will be conducted in English. No translation will be provided.
---
Lost & Found
For assistance, report any lost or found items to the Information Desk in the Orange Area.
---
Media Policy
Registered press representatives may attend all scientific sessions. Photographing during sessions is allowed for personal and non-commercial use only, i.e. photos cannot be published or reproduced in any way. Outside of the scientific sessions, you need written permission by the EAU for photography, filming and interviews at any location within the congress venue.
Video recording of the congress or during the sessions is subject to authorisation by the EAU Press Office. A written request must be submitted prior to the congress via press@uroweb.org or can be submitted on-site at the EAU Press Centre. Requests will be approved on a case-by-case basis. Film crews can book a time slot (max 2 per day per publication) to film in one of the filming areas onsite via the hostess in the EAU Press Centre. Film crews will receive a special filming press badge, available at the EAU Press Centre.
More press info can be found here.
More information about the media policy here.
---
Mobile Phones
Sound and camera flash of mobile phones and tablets must be switched off during sessions.
---
Opening Ceremony and Awards
Participants and exhibitors attending the congress are invited to the official Opening Ceremony on Friday, 20 March 2020 at 18.00-19.30 in eURO Auditorium. During the Opening Ceremony the new Honorary EAU Members will be announced and EAU Awards will be handed out. See the website for more details on the EAU Awards. The Opening Ceremony will be followed by a Networking Reception in the Orange Area until 21.00 hrs.
More info about the awards can be found here.
---
Opening Hours
Find the overview of opening hours here.
---
Personal Planner
Do not miss anything during this year's congress, use the EAU Personal Planner!
It is fully integrated with the scientific programme of the congress
You can select your priority sessions and export them to your Outlook, Google Calendar or print them out.
Visit the scientific programme overview for more information:
eau20.uroweb.org/scientific-programme/overview/
---
Pharmaceutical Advertising
During the 35th Annual EAU Congress, it is important that pharmaceutical companies related to "prescription-only medicines" can identify non-prescribing professionals when they interact with them. Pharmaceutical companies are aware that they can inform non-prescribing professionals about their products, but that they cannot promote products to them. Based on information provided by the registering party, the EAU will indicate the letter "P" on the congress badges when the bearer is a "Prescriber". It is the responsibility of the registering party to provide correct information and the EAU holds no responsibility with regards to the information provided. This measure is in accordance with the national and international pharmaceutical guidelines.
---
Photography & Filming
EAU will be taking photos and doing some filming between sessions. If you would prefer not to be filmed or photographed, please let us know by sending an e-mail to: press@uroweb.org
---
Poster Session Online Service
Poster presenters who created their posters for EAU20 through the "EAU PosterSessionOnline Service", can collect their posters at the Speaker Service Centre (Orange Area).
---
Prayer Room
The Prayer Room is always open and accessible via Entrance D at level -1. The two private cubicles for prayer/meditation can be locked from the inside.
---
Presentation Training Centre
Improve your presentation skills at this year's EAU Congress and take advantage of the opportunity to work with an expert training specialist for scientific presentations. From Friday till Monday Mrs. Vivienne Parry (United Kingdom), will be hosting one-on-one sessions of 15 minutes and group sessions of 30 minutes (for 3-5 persons) per day. Group presentation training sessions are very valuable, since your colleagues can provide feedback, along with the useful tips and tricks from the trainer.
Faculty and speakers can pre-register up for this FREE service by sending an e-mail with your preferred date and time to Ms. Nina Bogaert at the EAU Congress Department. Or, sign-up at the Speaker Service Centre in Amsterdam.
More information can be found here.
---
Press Centre
Journalists and medical/science writers can obtain a free registration to the congress. Registered press members are welcome to use the facilities at the EAU Press Centre (Orange Area) where they will also obtain a special press pack. Internet access, printer and photocopy facilities are provided.
More information.
---
Registration Area
All registration desks and facilities are located in the Blue Area.
---
Resource Centre
All scientific content of the congress such as abstracts, videos and webcasts will be available online in the Resource Centre eau20.org/rc.  Access the Resource Centre using your congress registration login (MyEAU), your EAU member login (MyEAU) or the barcode number on your congress badge (type the number without the *).
---
Security & Safety
The RAI and the EAU have taken security precautions to ensure the maximum possible safety for all participants. Bags may be subject to inspection. Do not leave bags unattended at any time.
---
Smoking Policy
Smoking (also of e-cigarettes) is not allowed inside the congress centre and in the exhibition hall.
---
Social Media
We are using social media at the congress to encourage an open discussion on urology science and experiences at the congress. EAU congress speakers, opinion leaders, delegates and media share their ideas, commentary and photos on Facebook and Twitter. You can follow the EAU on Facebook via facebook.com/eaupage, Twitter via @uroweb and Instagram via @uroweb. Use #EAU20 to discuss the Congress and join the conversation!
---
Speaker Service Centre
Only digital presentations will be accepted during the congress. All presentations (format 16:9) should be handed in at least three hours prior to the start of the session at the Speaker Service Centre (Orange Area).
If you have an early presentation, please hand in your slides on the day before! Failure to do so could result in presentations not being available for projection when required.
---
Taxi
There are a lot of taxis in Amsterdam and at every major station, there are taxi stands. The RAI venue has taxi ranks laid out to facilitate the arrival and departure of visitors. More information can be found here.
---
Transportation Passes
Delegates will receive a 4-day transportation pass valid for unlimited travel within the city of Amsterdam. For transportation information please go to the Transportation Desk (in the Registration Area).
---
Travel Information
Here is detailed travel advice on how to get to Amsterdam and the congress venue.
---
Upcoming Meetings
Information on upcoming meetings can be displayed in the "Upcoming Meetings" promotion walls in the Charge & Connect Areas in the Exhibition Hall (Blue Area). It is strictly forbidden to put up promotional material at any other location in the building.
---
Webcasts
Sessions, showing this webcast symbol, will be webcasted within several hours after the session in the EAU20 Resource Centre on: eau20.org/rc.  Webcasts are not edited and watching them offers no CME credits. The statements and the opinions featured in the webcasts are solely those of the individual presenters and not of the EAU.
---
Wi-Fi

The EAU is offering free Wi-Fi during congress days in the RAI Amsterdam, with the exception of the Exhibition area.
In the Exhibition area, free Wi-Fi is only available at the Charge & Connect areas (stands A72 & F74).
---